Grand porches get more press, but you can pack just as much style into a small space. Whether you have a city stoop, an apartment building landing, exposed exterior stairs or a small porch, these 10 ideas will help you make the most of your home's entrance.
1. Add a quirky planter. Done with that umbrella stand? Tuck a plant pot in there for an instant transformation. Or take a funky vintage find, like an elephant-shaped stool, and use it as a plant stand beside the front door. It's sure to make guests (and you) smile.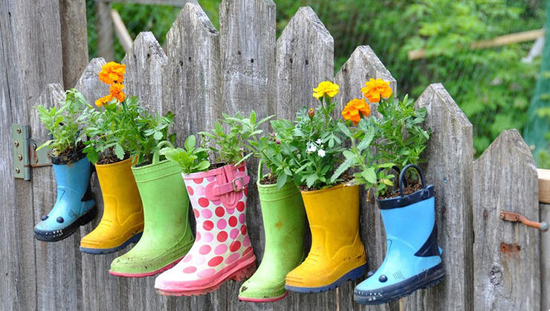 2. Paint your door a bright color. A cheerfully bright, mood-boosting hue is a great way to light up a small or dark entryway. Try yellow, lime green or aqua.
3. Paint pots to match your door. This is quite possibly the easiest way to make your front entrance feel put together: Cluster flowerpots in the same hue as your front door on the stoop. Stick with odd numbers and vary the sizes of the pots for a more casual look. For a formal entrance, choose two giant, identical pots to flank the door.
4. Roll out a big rug. Why stick with itty-bitty doormats when you can offer guests a big, cheerful outdoor rug instead? A larger rug on a small stoop will help the area seem more spacious — a tiny doormat tends to break up the space. A big rug on the porch also does wonders for hiding imperfect floors!
5. Position trellises to frame the entrance. Positioned at each end of the porch or front steps, trellises provide welcome privacy and shade to the entrance. If the area gets good sunlight (and the climate allows), why not plant something fragrant, like jasmine, so you can enjoy a delicious scent each time you return home?
6. Style some beachy finds. Driftwood, shells, glass lanterns, striped beach blankets and woven seats create a laid-back vibe on this front porch. If you have only a tiny amount of room, try arranging a single chunk of driftwood, a big shell and a glass lantern beside the door.
7. Plant a window box. When you hardly have a stoop, let alone a full porch, it can be difficult to find ways to personalize your space. Try hanging a window box from the front window and installing a handsome lantern beside the door.
8. Invest in topiary. A pair of topiary trees or neatly trimmed potted shrubs flanking the front door makes for an elegant entrance. You can't miss with classic blue and white ceramic pots, moss-covered concrete or black urns, or square wooden planter boxes. If your stoop gets zero sun, consider investing in high-quality fake topiary — it's really hard to tell the difference, and you can't kill it!
9. Draw the eye up with hanging baskets. Big hanging pots of ferns look bountiful and lush, and can handle the shade under an eave. Be sure to choose pots that are on the large side, and hang them about two-thirds of the way up from the porch floor — small pots hung too high look awkward.
10. Swap plain numbers for an address plaque. A custom address plaque imparts more sophistication than plain house numbers. If you like, personalize it further by making up a name for your house.